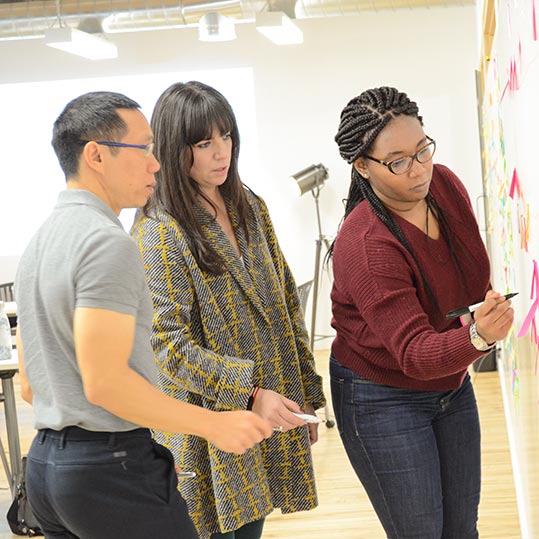 Cookhouse Labs
Serving innovation to make the future better.
What is our mission at Cookhouse Labs?
At Cookhouse Labs, we create a global innovation community that tackles current and future industry challenges through co-creation, collaboration and open communication. Inspired by a test kitchen, Cookhouse Labs is a collaborative space for innovative chefs, Tastemakers, and taste-testers to create recipes, infuse flavours, and experiment beyond boundaries. Our community of innovators and subject matter experts is the key ingredient in the ideation process, empowering and integrating a global collection of human-centric focused ideas with Design Thinking to serve innovation across all industries.
To share and collaborate. To design and create. To accelerate innovation and prototyping of digital experiences. To create a holistic digital ecosystem and customer experience.
To fosters and encourages co-creation and ideation to generate new business models, products, and services. By shifting from a traditional way of thinking to a more human-centered way of thinking, we aim to collectively develop an ecosystem of digital excellence and strive to make the future better.
Our Work With Our Community
In collaboration with our global community like-minded people who are bothered to look into world challenges across all industries, we co-create solutions to make the future better.
Foster
an ecosystem for international collaboration between cross-industry innovators and subject matter experts.
Collaborate
in understanding customer needs to ideate practical solutions to within your industry
Co-create
digital prototypes through innovative use of technology and Design Thinking to accelerate human-centric innovation
Engage
startups and young talent, connecting them with our global community through mentorship programs and collaborative projects
Check-out the latest offerings on the menu at Cookhouse Labs.
SummerHack 2023
Global Financial Services Ideathon! Join some of the world's best financial services organizations, startups, and student innovators for 2 days of exciting innovation, ideation, and competition!

Co-creation Innovation Sprint
Join us in The Netherlands to explore the most critical challenges using Design Thinking and develop real solution blueprints with some of the world's top insurance organizations!

Lean Startup Masterclass
Join this workshop to learn a new way to approach to launching a new product, service or even a new venture. Learn about the Lean Startup methodology and how you can use it in your future projects.

Train the Trainer
Take advantage of the opportunity to allow your innovation coaches, managers and innovation leaders to expand their knowledge on the topic and learn new skills from our Innovation Coaches.

Co-creation Sprint
Stay tuned for more info.

Summer Bootcamp
We are excited to have our members be part of Cookhouse Labs' Summer Bootcamp in collaboration with University of Toronto, Dept. Statistical Sciences.
Become a Member
We also offer intro sessions that provide professionals with the opportunity to experience ourCookhouse Labs methodology and a sneak peek at what it's like to co-create and collaborate with our global community. If you are not a Cookhouse Labs member and are interested in finding out more, check out our membership benefits!