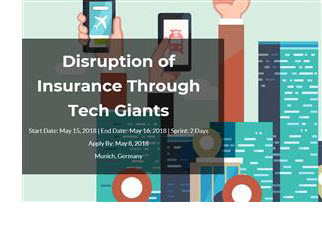 Join us for a Cookhouse Lab Free Taster Event in Munich under the topic of Propelling insurance disruption through understanding the impact of tech giants.
In this two-day sprint at the Cookhouse pop-up Lab in Munich, Germany, we will collaborate and run through a series of design thinking exercises to understand the impact of disruption through tech giants. Some of the questions we are looking into are:
What can we learn from tech giants?
How can we compete or even collaborate with them?
How will an insurance supply chain of the future look like?
Where will tech giants enter the market (P&C or health)?
Do tech giants really have better insurance relevant data?
This is a taster session at the Cookhouse Lab – there is no cost associated with this project.
Organizations may send one participant each. Space is limited so make sure to RSVP soon to secure your place! Registration deadline is May 6, 2018.