On-demand Replay from 10-29-2020 SAP, EY & msg global Webinar
Are you ready for finance transformation?
SAP S/4HANA financial products subledger can be a crucial starting point.
Insurance companies are undertaking significant transformation initiatives in order to enable analytical insights and ensure compliance with regulatory standards. The technology needed to support it has to ensure integration, consistency, and real-time access to financial results.
Learn how msg global & EY are helping companies achieve this by:
Establishing common data definitions throughout the organization.
Bringing data to a common reporting platform and enabling centralized accessibility to the details of all financial events.
Providing a central accounting rules repository.
Ensuring data is available, traceable, consistent, timely, and secure.
Improving data flow throughout the company by retiring or modernizing legacy applications.
Learn More: Creating a Central Subledger for Finance Transformation
The challenges financial institutions face today are beyond the scope of any single software solution. The role of the finance organization itself is changing. From a reporting factory to the core business unit that generates, preserves, and delivers enterprise-wide strategic value.
Learn how msg global views the financial subledger as a core component of financial transformation.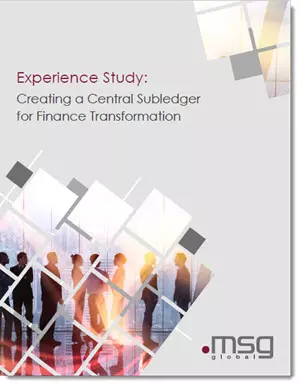 If you're considering SAP® solutions or just want more information about our services, simply fill out the contact form and we'll be in touch.
We'll work with you to help you understand all your options and select the solutions that best suit your needs to get your business running the way you want it to run.
Contact us today to learn more about all the ways we can help you do more business, more efficiently.