This is the first post in a series about sustainability regulations and the ways in which msg global and SAP's Profitability and Performance Management (PaPM) can help organization comply, remain in compliance, achieve targets and pledges, and improve operations, as well.
If you have the sense that it's getting more challenging to remain compliant with regulations and mandates, you're right. And there's a spate of current and upcoming rules and requirements that make compliance — and sustainability — even more challenging. Here are several of them:
The EU Taxonomy is a classification system that establishes a list of environmentally sustainable economic activities, intended to help the EU scale up sustainable investment and implement the European green deal. It helps investors to identify and respond to investment opportunities that contribute to environmental policy objectives, and to understand whether an economic activity is environmentally sustainable. Its main objective is to become the common language between companies, investors, and policymakers to give appropriate definitions to economic activities that can be considered environmentally sustainable. It also creates security for investors, protects private investors from greenwashing, helps companies become more climate-friendly, mitigates market fragmentation, and helps shift investments where they are most needed. It's intended to meet the EU's climate and energy targets for 2030.
The Non-Financial Reporting Directive (NFRD) is aimed at public-interest entities with more than 500 employees and a total balance sheet of more than 20M EUR or a net turnover of 40M EUR. The new Directive introduces a number of new features, such as the remission as a Corporate Sustainability Report of what was previously known as non-financial information, the requirement to digitally "tag" the information reported so that it is fed into a single European access point, and the comparability of data, achieved through the work of the European Financial Reporting Advisory Group (EFRAG), a working group that will develop a new European reporting framework and indicators.
The Corporate Sustainability Reporting Directive (CSRD) is intended to replace NFRD by 1.1.2024 for the reporting year 2023. CSRD will extend it to all companies, will introduce more detailed reporting requirements according to EU sustainability reporting standards, and will require the auditing of such reports. EU-taxonomy also will drive additional transparency by requiring asset managers to report the percentage of turnover, CAPEX, and OPEX aligned with EU-Taxonomy and to report the percentage of their portfolios aligned with EU-taxonomy by 2024.
The Sustainable Finance Disclosure Regulation (SFDR) legislates greater transparency for ramifications for investors on matters of sustainability by determining mandating the disclosure of 50 Principal Adverse Impacts (PAIs), Environmental, Social, and Governance (ESG) KPIs that address the sustainability risk of investments such as GHG emissions, Carbon Footprint, Violations of UN Global Compact Principles, unadjusted gender pay gaps, and others. SFDR applies to all financial market participants —investment firms, pension funds, asset managers banks, and insurance companies with more than 500 employees. The disclosure applies to sustainability practices at the entity level and financial products on the product level.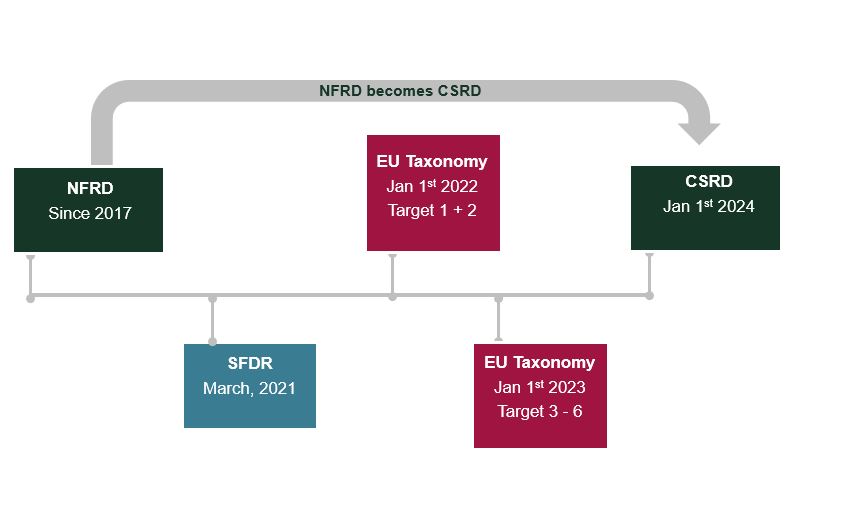 The calculation of KPIs like Greenhouse Gas (GHG) emissions require data from IT systems, financial and non-financial, especially when addressing information on Scope 3 emissions While most companies might be able to provide data on direct emissions from their buildings and vehicles — and indirect emissions from electrical power — acquiring data on emissions from supply chain and value chain to product distribution adds significant complexity. Since criteria have not been determined in many cases — and in the absence of definitive Regulatory Technical Standards (RTS) — compliance is a moving target.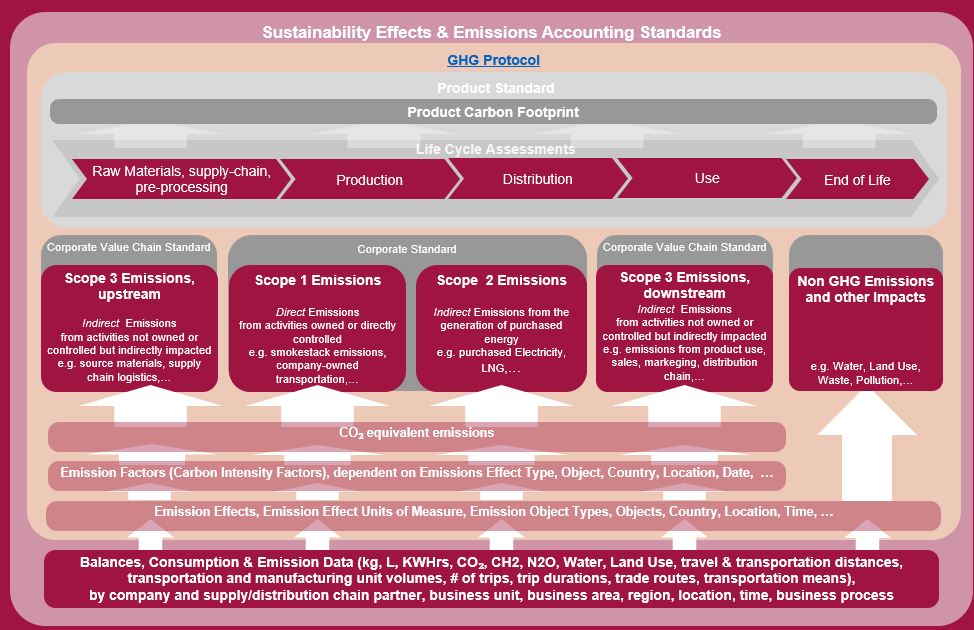 In the next post in this series, we'll discuss the ways in which you can achieve your sustainability objectives, comply with present and upcoming directives, and simplify your operations.