Ooops! They did it again...
Recently SAP and Microsoft announced an extended partnership to accelerate customer innovation and transformation. The latest announcement expands the journey that started in 2019 with SAP Embrace. To understand the full scope of the collaboration, let's explore the shared history between SAP and Microsoft that goes back to 1993.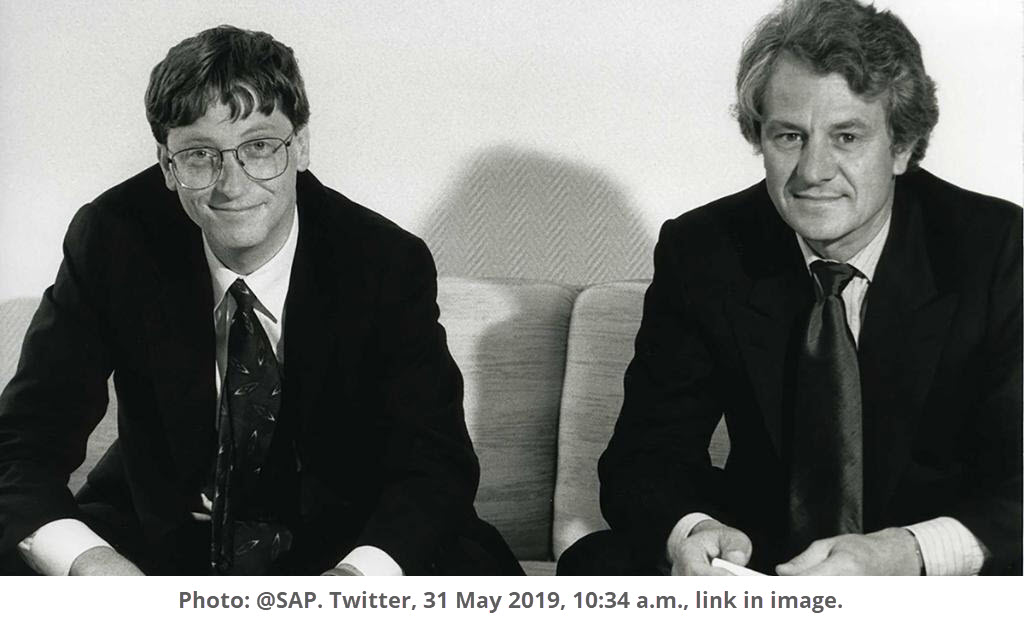 In 1993, Bill Gates and SAP's co-founder, Hasso Plattner, agreed to a strategic cooperation with SAP R/3 and Microsoft Windows NT, which focused on infrastructure in the broadest sense. Besides simply running SAP on Microsoft, a second and more important initiative was driven by customer demand to integrate SAP with Microsoft on an application level. The goal was to give users the data they need where they need it, no matter where it resides — presenting SAP data in Excel, for example — enabling users to maintain their customary workflows instead of forcing them to switch between applications.
The next important collaboration was in 2005 with Duet for Microsoft Office, leveraging current standards for integration (at that time SOAP webservices) and a seamless, secure login experience via Single Sign-On. Templates for different integrations were provided to speed up the development of standard scenarios, and combined support services were established by SAP and Microsoft engineers to provide one source of support. In the end, due to the complex architecture, the high cost of hardware and software, and the skills required to maintain the setup, Duet for Microsoft Office didn't achieve widespread success.
In 2011, SAP and Microsoft launched a second try with Duet Enterprise, which mitigated many of the issues of Duet for Microsoft Office. The platform included SharePoint, and data integration was switched from SOAP to OData services, which later gave birth to SAP Gateway. As Duet Enterprise evolved, Duet Enterprise 2.0 was released in 2013, opening the way to the cloud by supporting SharePoint Online. While Duet Enterprise 2.0 never took off commercially, the combination of Microsoft and SAP and the idea of application integration still appealed to customers.
In 2014, SAP and Microsoft launched SAP Gateway for Microsoft to integrate SAP data into Microsoft Office. Customers liked the idea, but the license cost was prohibitive relative to its functionality. Yet demand for SAP/Microsoft integration remained.
Since 2014 Microsoft has introduced a full spectrum of cloud-based offerings, from Azure and Microsoft365 to Power Platform and open-source contributions. Likewise, SAP aspires to be a Cloud company, following Microsoft's lead in adopting open standards and contributing to open source. These advances removed many of the technical barriers that hindered former integration attempts.
The dawn of digitalization created new opportunities for SAP/Microsoft integration. So, collaboration efforts picked up again in 2017, with Microsoft and SAP joining forces to give customers a path to digital transformation in the cloud with Microsoft Azure as an Infrastructure as a Service (IaaS) provider. Further collaboration between SAP, Microsoft, and Adobe was announced in 2018 when the companies teamed up on the Open Data Initiative to link data across their products.
The last piece of the puzzle fell into place at SAPPHIRE NOW 2019 with the announcement of the Embrace initiative to simplify and modernize customers' cloud journey. While the original announcement kept the playground open for all hyperscalers, SAP announced in October of that year that Microsoft is SAP's preferred cloud-migration partner.
The collaboration picked up the goals first addressed by Duet and transferred them to current needs for current times to create an optimized platform that goes beyond pure IaaS to include integration and security. In addition, the partnership should deliver reference architectures targeting specific needs and support the customer with functional and technical experts from SAP, Microsoft, and partners to make customers' journeys successful.
And so, we are back to 2021 with the most recent announcement from SAP and Microsoft to increase the use of Microsoft Teams and further formalize their cloud partnership with Microsoft Azure.
In short, recent technological advances and the re-shaping of SAP and Microsoft as companies made it reasonable to re-join forces to satisfy customer needs. Technologically speaking, the opportunities and options for customers to achieve higher business value have no limit.
In the next post, we will dig deeper into SAP Embrace and the commitment of SAP and Microsoft to meet customers' needs.