SAP Profitability and Performance Management (SAP PaPM) offers you a path forward!
SAP Profitability and Cost Management (PCM) is scheduled to go off of maintenance at the end of 2020. Companies that use SAP PCM will need a migration plan or risk running their operations with unsupported software. There is an option for purchasing extended support but this is just a short-term fix instead of a proper strategy.
Smart companies are planning to migrate to SAP Profitability and Performance Management (PaPM), a product developed to support SAP S/4 HANA, with superior capabilities to those of SAP PCM.
A lot has been written about SAP PCM over the years. It was originally developed by another company and acquired by SAP during its acquisition of Business Objects in 2007. The last official release of the product was in 2010 – the year that the original iPad was introduced. Technology has made strides since then and we have considerably more computing power on our hands.
One of the key functions of SAP PCM is to provide a framework for handling allocations in the core SAP ERP environment. Additionally, it supports transfer pricing, product costing, and product or customer profitability analysis. While it does support these important accounting functions, there are more up-to-date options that provide richer, faster, and more comprehensive capabilities. Let's take a look at several reasons why SAP PaPM is an ideal successor to SAP PCM.
SAP PaPM's native HANA architecture makes it fast and highly scalable: It can process billions of records in minutes or even seconds. Several customers tested SAP PaPM for queries or calculations that previously took days or many hours, running them in a matter of minutes. This translates into huge productivity gains while providing you with the ability to test and fix potential issues on the fly and without costly and frustrating wait times.
SAP PaPM provides all the functional capabilities of SAP PCM but goes beyond them with sophisticated modeling and what-if analyses. The reporting and forecasting results from SAP PaPM can be saved back into the platform with full auditability and traceability for each set of calculations.
When it comes to allocations, SAP PaPM shines with its ability to natively support a plethora of methods such as:
Direct/indirect
Global expenses
Activity-based
Hierarchical
Automatic cycles with early exits
Delta handling
Cost and account-based
Multiyear allocation runs with annual, quarterly, monthly, daily, or intra-day bases
And more.
Regardless of your industry, SAP PaPM has the flexibility and is designed from the bottom up to install on top of the S/4 HANA environment to leverage its speed and power. Here is a comparison of some of the key features that SAP PaPM delivers by taking advantage of the newer, faster HANA architecture.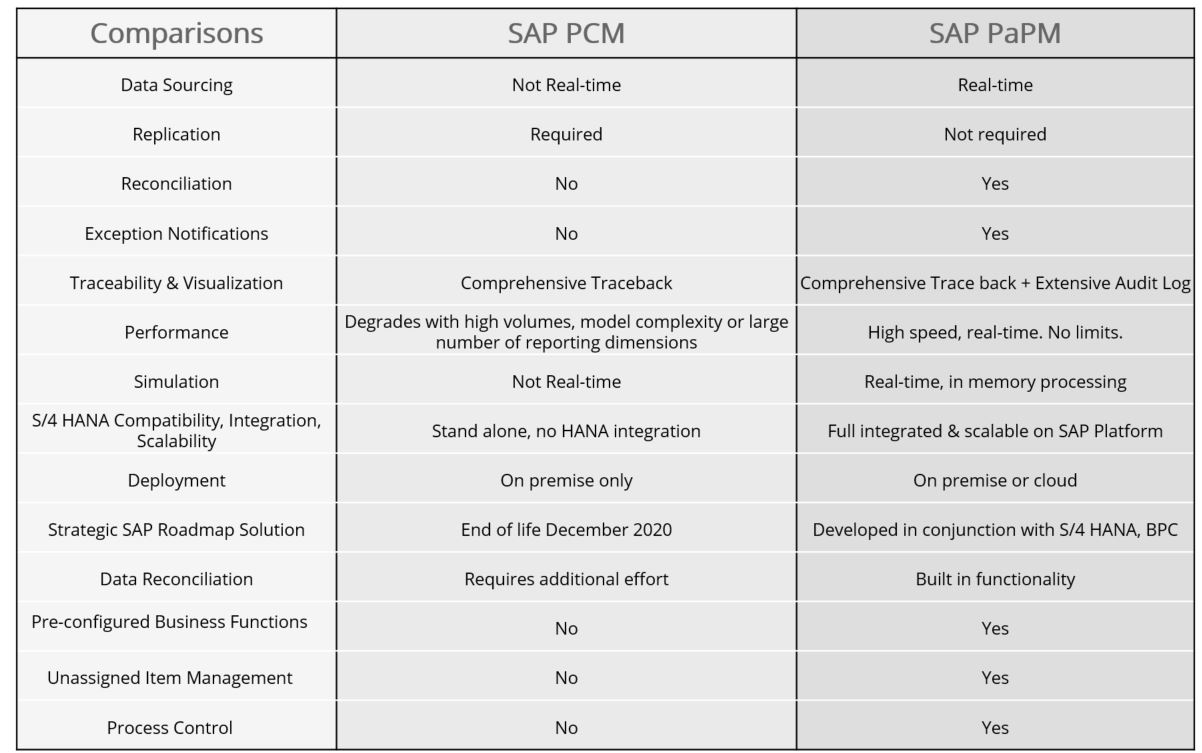 While December, when official SAP support for SAP PCM terminates, is months away, you don't want to get too close to the edge and not have enough time to make a move. Migrating from SAP PCM to SAP PaPM does not have to be complicated. Our team of experienced consultants is here to help you. Accelerators along with a proven methodology put you several steps ahead of the curve.
Please feel free to contact me if you have any questions or want to discuss further.
Please click here for more information on SAP PaPM.