Our vision
is to help companies perform better
At msg global, we want to help companies achieve their highest performance goals. Teamwork is the key to making this happen, and this is why we collaborate with the best companies to deliver intelligent solutions. Through this cooperation, we bring multiple perspectives to the services and solutions we bring to market.
Premier Strategic
Partnership
Our partnership with SAP is strategic and vital to our core business. We work at all levels in SAP to develop software solutions, provide implementation services, and align on strategies that empower the intelligent enterprise of tomorrow.
Over the past 25 years, msg group has partnered with SAP and its customers by providing deep industry knowledge to develop innovative industry solutions that complement SAP's product portfolio and are used by companies across the globe.
Get in touch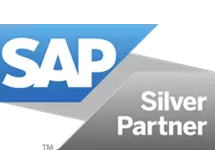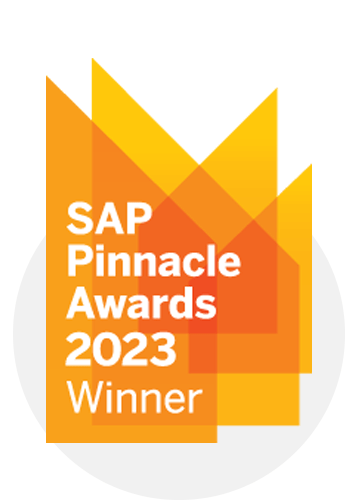 2023 SAP Pinnacle Awards Winner
As a 2023 SAP Pinnacle Award Winner, msg global is recognized for its innovative partner-developed industry-cloud solution with strategic importance for our joint customers that complements SAP's industry cloud portfolio and the SAP Business Technology Platform (SAP BTP).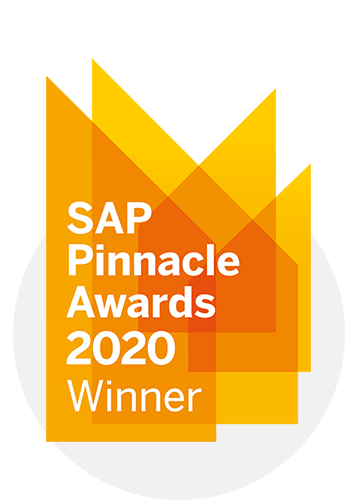 2020 SAP Pinnacle Awards Winner
We are honored to have received the Solution Extensions Partner of the Year - Digital Core Award for the development of complementary software that provides technological innovation, market impact, and demonstrates business impact for the customer.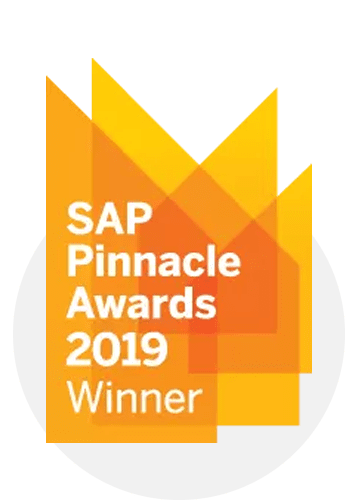 2019 SAP Pinnacle Awards Winner
We are honored to have received the Industry Innovation Award for delivering industry solutions that complement the SAP portfolio and fulfill customers' needs, such as SAP Profitability and Performance Management and SAP S/4HANA for financial products subledger.
Our mission
is to deliver solutions that improve operational efficiency and decision-making capabilities.
We work with
Passion
Passion is how we approach our work – loving what we do and joyfully delivering on our promises.
We focus on
People
People make it all possible. Our people are the best in the business and provide the power to deliver our mission and vision.
Our goal is
Performance
Performance and specifically better performance is our ultimate goal. We strive to exceed expectations in everything we do.

HERE offers an open platform for location technology, maximizing the possibilities for companies to advance their businesses and applications. The way HERE enables companies to use location technology is unique and has transformed how customers can access the best location data and services.

MyWave takes data from any source, intelligently orchestrates processes to make them simple seamless and smart, and then guides employees and customers through powerful new journeys. Speeding up time to value and dramatically improving productivity and process performance.

Spearhead provides innovative solutions to manage automotive claims in real-time, with high efficiency and transparency, while offering to a positive, contempory experieince to the end customer throughout the journey from first notification of loss to final claim settlement.

The SYNCPILOT Group Munich / Augsburg is a software company specializing in solutions for digital customer consultation, online contract closing with digital signature, digitalization of administration, as well as customer experience management. On a cross-sector basis, they enable companies to create the conditions for sustained and consistent customer experiences and expand their competitive position.
What customers say
Performance.
We are committed to intelligent IT and industry solutions — from consulting and development to implementation. Our services help companies maximize the opportunities of digitalization to improve operational efficiency and decision-making capabilities.
Activity-based costing model was required by Luminor's executive management team to gain detailed cost transparency in granular dimensions, including product and segment. We appreciate msg global's support in delivering a high quality project with a challenging timeframe.
Rait Maasikas

Head of Performance Management & Insight Department at Luminor Bank AS

Read the story
We are very thankful to msg global for their contribution that allowed the achievement of our project goals in a timely manner.
Sandro Anselmi

Head of Reinsurance at Arca Assicurazioni

Read the story
The msg global team developed a great standardized industry solution together with Swiss Mobiliar. They partnered effectively with our insurance leader and IT team. The implementation was timely and efficient and challenges were resolved in an effective and reliable manner.
Patric Deflorin

Managing Director, Head of Insurance at Swiss Mobiliar

Read the story