How to leverage the power of telematics in case of an accident?
Usage-based insurance (UBI) is becoming an established offering for most insurers worldwide.
That means auto premiums are based on driving behavior and are calculated by driving habits and time of day.
For policyholders, it means rates are calculated:
As you drive (Pay-as-you-drive)
By the way you drive (Pay-how-you-drive)
When you drive (Pay-when-you-drive)
For insurers, it means risk mitigation, tailored products and services, better customer engagement, higher rates of retention, and opportunities to expand product portfolios to things like crash notification, informing insurers automatically and immediately in case of a crash.
We wanted to know how the telematics sensors of the msg.IoTA can be used in case of a crash. So, we crashed real cars in a real test environment. For two days, we made cars collide. We inflicted parking damage. And we conducted a series of control tests like slamming doors to identify false positives. Take a look at the video below.

From Weeks To Minutes. Be There When You're Needed Most.
What happens after a crash? The telematics device notifies the insurer immediately. The insurer gets information on the location of the crash, the intensity, the speed before the crash, and the exact parts of the car that were damaged. Then the insurer initiates communication with the customer.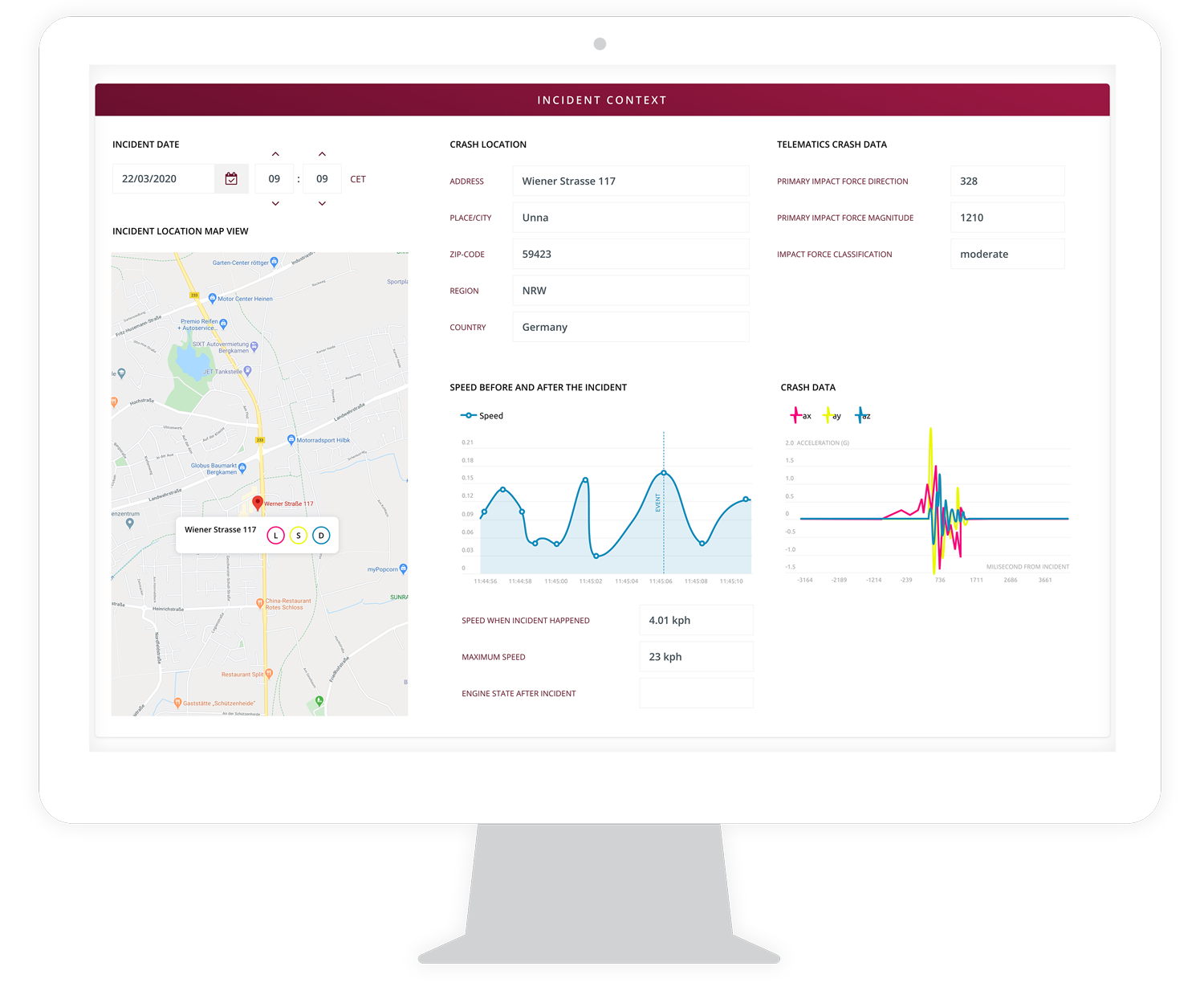 This is the starting point of a fully digitalized claims process that turns a negative event into an outstanding customer experience.
Damage reporting made easy
How do digitalized claims processes help insurers and drivers? The process that took days and weeks now takes minutes with guided workflows and image recognition. Insurers also get real-time First-Notice-of-Loss (FNOLs) through telematics and transform a negative event into an outstanding customer experience.
Artificial intelligence (AI) automates repair estimates, residual vehicle valuations, damage assessments, and next steps in seconds. Insurers reduce their needs for expert assessment, concentrating their resources on critical cases.
Consider this kind of efficiency:
A policyholder has an accident.
A crash notification is transmitted to the insurer that includes the G-forces exerted on the car and the angles from which they came.
The insurer knows when and where the accident occurred, contacts the driver immediately, and offers emergency services such as an ambulance, a tow truck, a taxi, or a rental car if it's included in the policy.
More information can be supplied by the policyholder in the dynamic questionnaire on a smartphone app.
The claims manager knows the vehicle value, the crash severity, and if the car should be repaired. Steps 1-5 take place in less than 30 seconds after the accident.
Next steps, such as repair orders or cash payments can be initiated immediately.
Yes. Time-reduction, paper-elimination, real-time transactions, and turning an otherwise negative event into a positive policyholder experience are just some of the aspects of the future of insurance.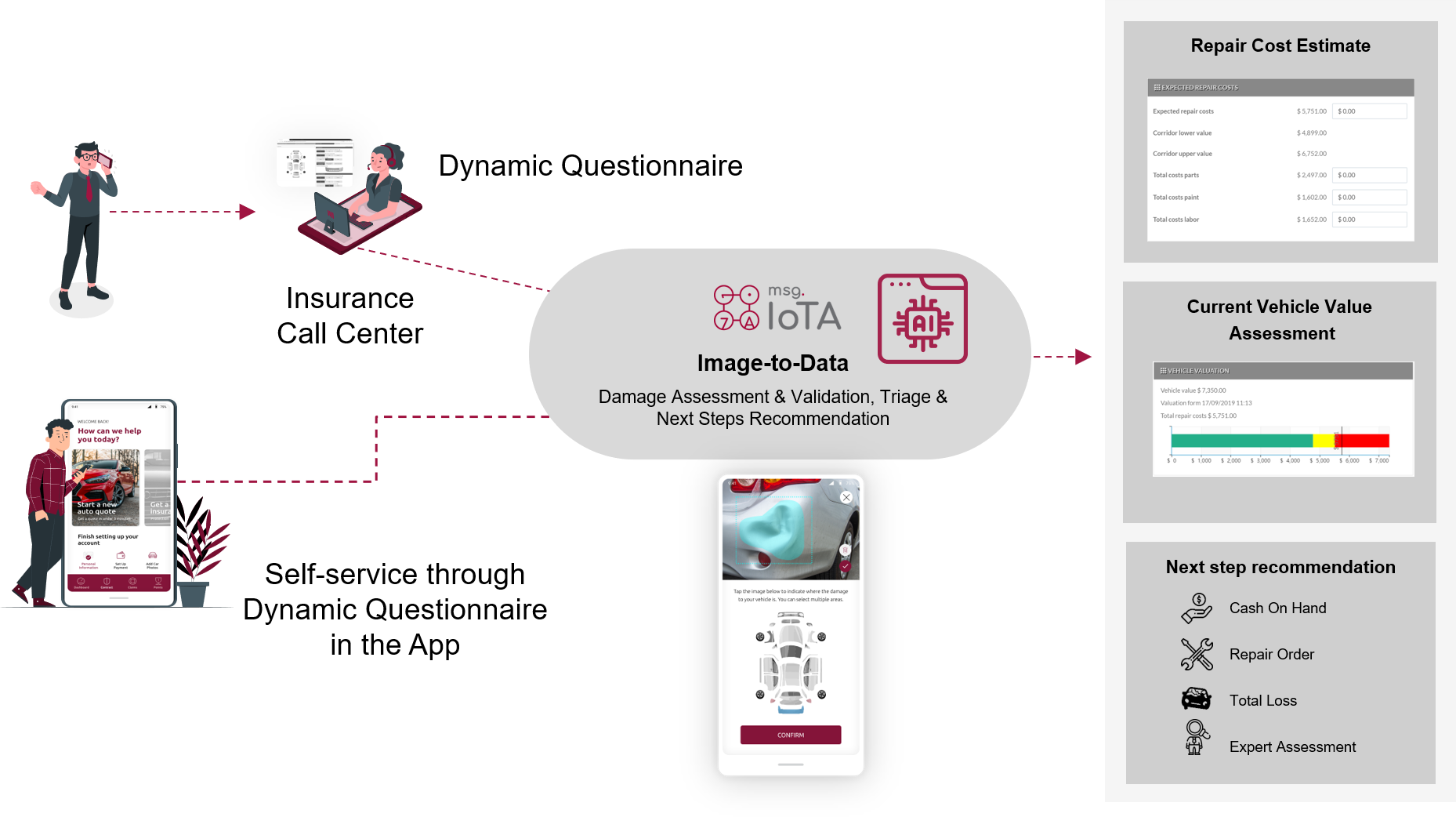 If you want to learn more about our msg.IoTA click here.