Our Commitment to Customers
Our mission is to provide unfailing support for and attention to your business operations, by precisely orchestrating our delivery capacities, our tools, and our services. Our service delivery model is flexible and available on-premise, on-demand, or by any other delivery method we design with our clients. Sustainability is the key consideration for us, which is why our approach is driven by these objectives:
Business Continuity: operations never stop
Imagination: operations need to be increasingly efficient
Continual Improvement: business processes need to be constantly streamlined
Attention to Total Cost of Ownership (TCO): cost/benefit is the key
Digitalization is the next evolutionary business model.
msg global supports digitalization, enabling continuous growth and uninterrupted operations. While the foundations of our services are frameworks like COBIT and ITIL, we take extra care to fine tune each of the services to your current and future needs.

Optimization

Optimization
Performance Optimization
Business Processes Transformation
PaaS Managed Cloud Environment
Landscape Optimization
TCO Reduction

Business Continuity

Business Continuity
Data Archiving & Aging
AMS
On-demand Development
Backup & Restore
OS / DB Upgrade

Quality Assurance

Quality Assurance
Landscape Fitness Analysis
Code Review
ITIL and Best Practice Compliance
Implementation Plan Review
Testing as a Service

Implementation & Safeguarding

Implementation & Safeguarding
Firefighter
Implementation Safeguarding
Upgrade Safeguarding
Landscape Support
Organized in three regional Mission Control Centers — Americas, Europe and Asia — we ensure 24x7 managed support services to customers around the world.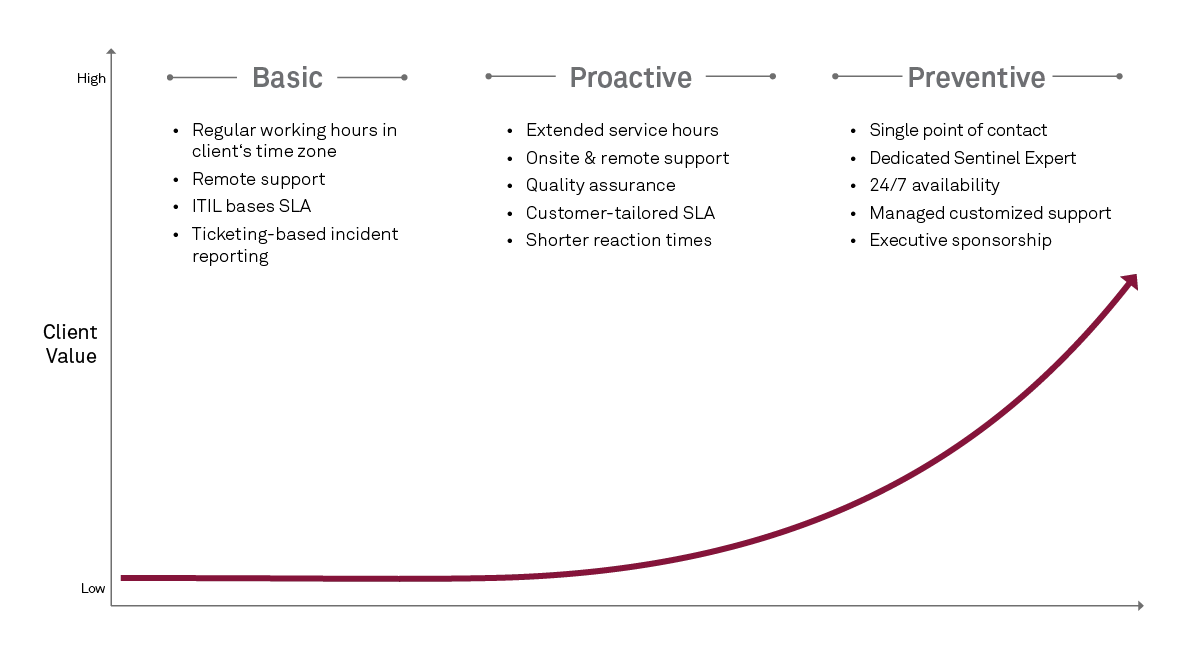 Application Lifecycle Management
Stay focused on core business by enlisting a strong partner for SAP-related requests.

Through a single point of contact, msg global provides a spectrum of support. Certified by SAP in RUNSAP services that enable and support customers globally in the whole application lifecycle, msg employs proven processes, impeccable quality standards, and deep domain expertise to effectively run SAP Solutions.

Project Safeguarding

Project Safeguarding
Project safeguarding through continuous project-tailored quality assurance and by shadowing the implementation team and operations.

Production Support

Production Support
Knowledge transfer programs and customized support models for SAP applications to users and management.

Business Process Support

Business Process Support
Professional support for the entire system landscape.

Technical Operation

Technical Operation
Smooth operations, ensured by our proven, preventive support approach.

Lifecycle Management

Lifecycle Management
Management of the entire lifecycle of SAP applications including Change Management and Transport and Deployment Management.
Functional Business Process Support
In-depth SAP Solution expertise
Close collaboration with SAP development labs
Functional Process Support for a wide range of SAP Solutions (e.g., FS-RI, GL, FS-CD, FS-PM, SD, MM, FI, CO)
Standardized and Customized Support Processes (1st / 2nd / 3rd Level Support)
Fully integrated in your existing support structure
Service time up to 24x 7/365
ITIL & RUNSAP based process framework
Incident/Problem management
Change management
Root-cause analysis

Documentation standards
Parallel development processes and operations
Support in various languages
Monitoring, continuous improvement
Mixed delivery models (on-site, near-shore, offshore)