Flexible
Portfolio Management
msg.PIA is an SAP® certified solution that combines best practices with end-to-end processes to offer a reliable and sophisticated portfolio administration management system and a holistic solution for your business.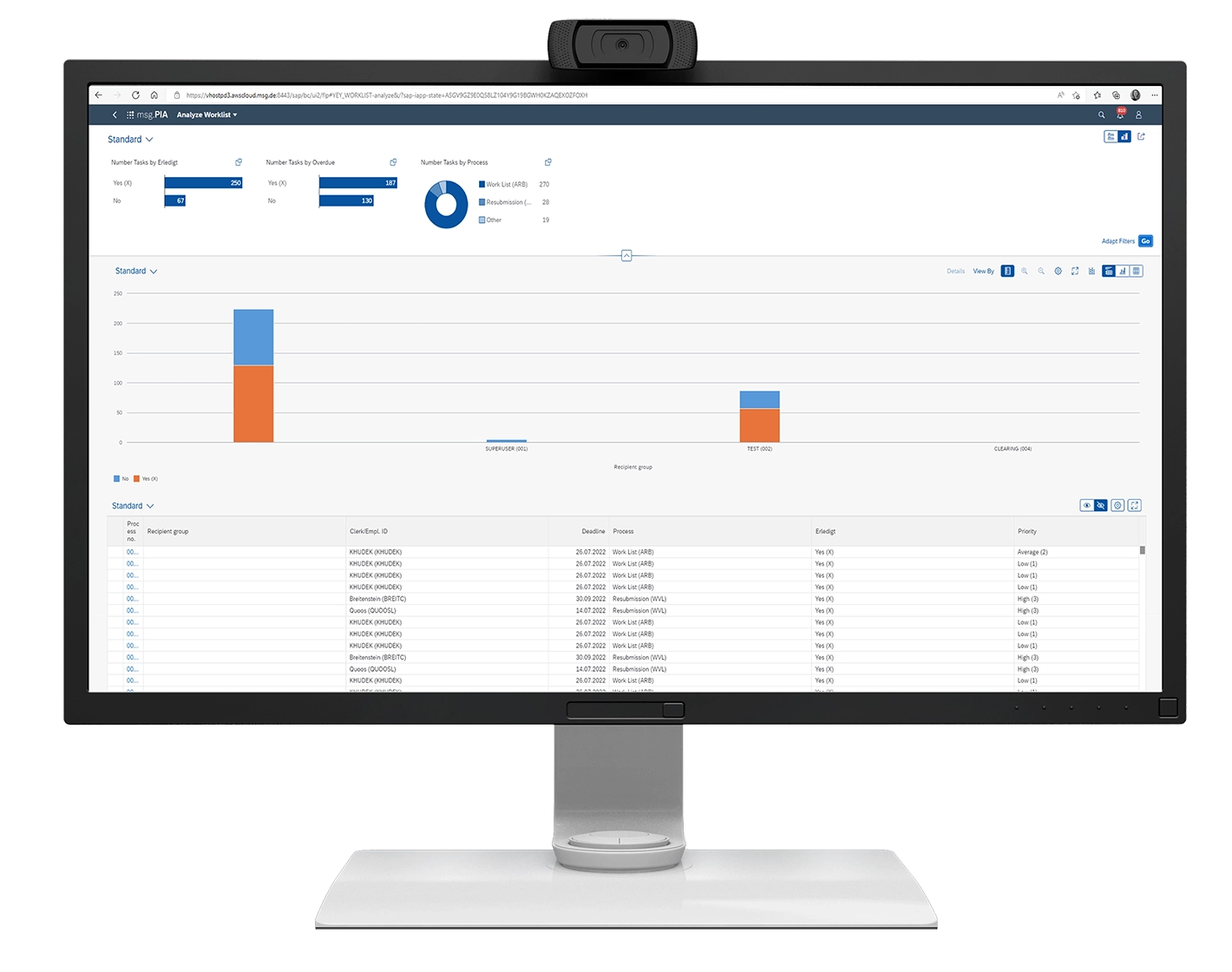 Integration
An End-to-end Data Stream
msg.PIA supports small to mid-sized companies with successful implementations across 15 countries.
Primary Insurance Application
What does it Look Like?
msg.PIA (Primary Insurance Application) provides a proven process-supported all-line of business solution which, combined with standardized, process-oriented interfaces and simple handling, enables flexible portfolio administration management.
Rapid implementation of new, innovative products through an integrated, central product definition.
SAP-based architecture to drive innovation that guarantees scalability and stability for customer enhancements.
Operated in the cloud consuming services from other cloud suppliers or providing cloud services of its own.
Comprehensive Documentation
Detailed online help and comprehensive release notes, functional concepts and technical information.
Flexible portfolio management with standardized, process-oriented interfaces and simple handling.
All modules are seamlessly aligned in a modular integrated portfolio management system with embedded product calculator.
Pre-defined interfaces and application programming Interface (API) for seamless communication between SAP and non-SAP applications.
Innovative and Future-Oriented
Close contact with customers and regular releases guarantee continuous adaptation to market developments.
SAP Tailored
To Your Needs
While transformation can be overwhelming, a step-by-step approach can get you on the right track. The key to success is identifying the best solutions and advisors to develop your end-to-end strategy. SAP technology is the best place to start.
Consulting Expertise
Technical & Functional Project Consulting Support and AMS
Program Accelerators
Solutions Developed to Accelerate Different Project Phases
Technical System Services
Landscape Setup System Installation & BASIS Support
Rapid Delivery Approach
Speed to market implementations measured in months, not years
Choose
Your Journey
Legacy to modernization is a step-by-step approach instead of a big-bang end-to-end migration. Looking for quick wins that create real value separates you from ongoing legacy conversion. A truly integrated platform allows for rapid innovation in the places with the most impact giving you the freedom to map the best approach to transformation.
Our Transformation Approach
Step-by-step Migration

Quick Win Projects

Integrated Systems

Rapid Speed To Market

Innovate Now Not Later
How can we help?
Contact us today
Map your best route to digitized operations. We'll help you understand the options and prioritize the steps that will give you the greatest returns in the least amount of time.
Simplify.
Other Key Insurance Solutions
Transforming your tried-and-true operations can be daunting. With our years of experience in insurance operations, we understand your business. That's why we're here to help you select the solution that best suits your needs, budget, schedule, and preferences.
SAP for Insurancefor Mid to Large Insurers
Implement the best business processes, optimize reinsurance processes, and gain sophisticated functionality for regulatory reporting.
msg.Life Factoryfor Life Insurance Carriers
Provide a streamlined and personalized customer experience while meeting the unique needs of the Life insurance carriers.