Digital Customer Engagement for the Financial Services Industry
Financial Services Accelerator (FSA) is a tailor-made omni-channel solution for insurance companies and other financial services providers such as retail banks. FSA empowers financial institutions to speed up their digital transformation and compete in the omni-channel world. It provides a streamlined, seamless and personalized customer experience while meeting the unique needs of the insurance and financial services industry.
The Three Pillars are essential to provide a consistent omni-channel journey. Product management brings agility to customer offerings that are independent of the core product houses. Customer experience provides flexible and fine-grained personalization. Industry-relevant processes allow for quick time-to-market. Pillars reside on top of the proven financial services data model and cross-industry SAP Commerce Cloud platform foundation.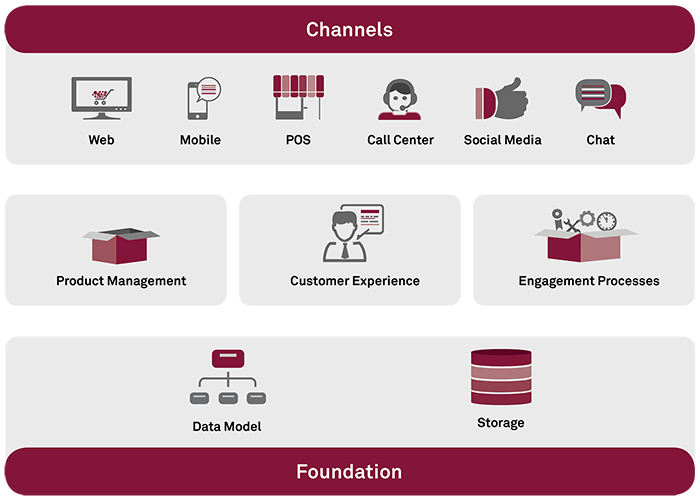 Financial Services Accelerator includes preconfigured reference integration and website templates for the insurance and banking industry. Customers are guided through each step of the quote process, during which they can choose from various products and riders, and are able to enter all the relevant data through customized forms that adapt based on their answers.
Customers are provided with a summary of their choices and the options to create a quote, save it for later review or issue a policy on the spot. The FSA also provides a rich self-service area for customers to inquire about policies, premiums and claims.
FSA also includes an Assisted Service Solution that enables call center agents to collaborate with the customers based on the same information and to support them on quotations and other kinds of inquiries.
Immediate Benefits for Financial Services
Banks and insurers operate under strict regulatory reporting requirements that can slow change. At the same time, digitalization is rapidly changing the competitive landscape. Financial Services Accelerator speeds time to market and accommodates the changing expectation of customers.
Quotation and New Business Process
Flexible and customizable Quotation and New Business process with predefined integration spots for Rating Engines and Policy Administrations.
Web Content Management System
Built-in yForms with a business user-friendly editor for product specific or general forms which support validation rules as well as inter-dependent and dynamic fields.
Customer-Agent Collaboration
Personal Data & Consent Management
The Financial Services Accelerator is a tailor-made, customizable and extendable omnichannel solution that supports financial services companies on their road to digital transformation and meets the unique needs of the industries.
We'll work with you to help you understand all your options; to help you select the option that best suits your needs, your budget, your schedule, and your preferences; and to help you make the right decisions about the right tools to get your business running the way you want it to run.
Contact us today to learn more about all the ways we can help you do more business, more efficiently.