Enhance
Sales Performance
Set up, manage and calculate sales compensation for any industry with SAP SuccessFactors Incentive Management. Configure commission rules, bonus plans and promotions for direct sales staff and indirect participants while calculating compensation in real-time with each sale.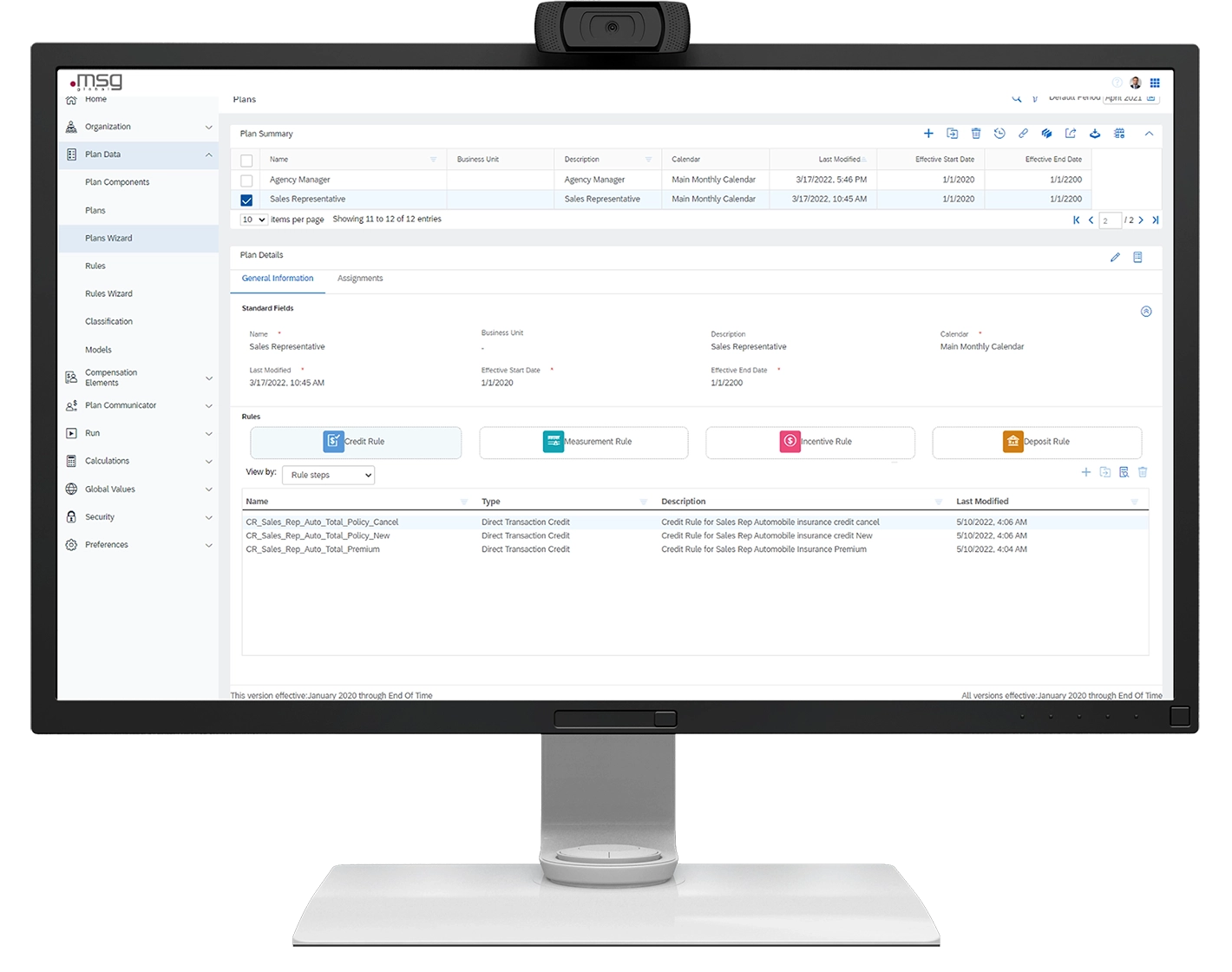 Automate
Performance Measurement
Manage disputes and inquiries quickly and easily. Configurable dashboards for sales and operations staff provide summary and drill-down information in real-time.
SAP SuccessFactors Incentive Management
What does it Look Like?
Compensation plans built from scratch or templates allow complex plans, competitions, bonuses and promotions to be quickly implemented and deployed. Simulation and analysis of compensation plans, with AI-supported recommendations, enable sales management to continuously adjust to the market and needs of the sales force.
Template-based Compensation Plans
Compensation plans can be built from scratch or templates.
Simple Configuration & Simulation
Complex plans, competitions, bonuses and promotions can be quickly implemented and deployed.
AI Supported Recommendations
Augmented Intelligence provides recommendations to improve commission plan performance and commission earnings.
Configurable dashboards for sales and operations staff provide summary and drill-down information in real-time.
Extensible Interface and Processes
Create New Synergies with Connected Processes and Analytics.
Direct printing with an electronic signature allows for review and acceptance of the contract without additional software or storage.
Enable accurate data collection and payout calculations.
Reduce Compensation Disputes with One-Click Traceability.
SAP Tailored
To Your Needs
While transformation can be overwhelming, a step-by-step approach can get you on the right track. The key to success is identifying the best solutions and advisors to develop your end-to-end strategy. SAP technology is the best place to start.
Packaged Content Solutions
Proven Best Practice Solutions for E2E Implementations
Consulting Expertise
Technical & Functional Project Consulting Support and AMS
Program Accelerators
Solutions Developed to Accelerate Different Project Phases
Enablement Programs
Tailored Training Programs for Project Teams & End Users
Technical System Services
Landscape Setup System Installation & Basic Support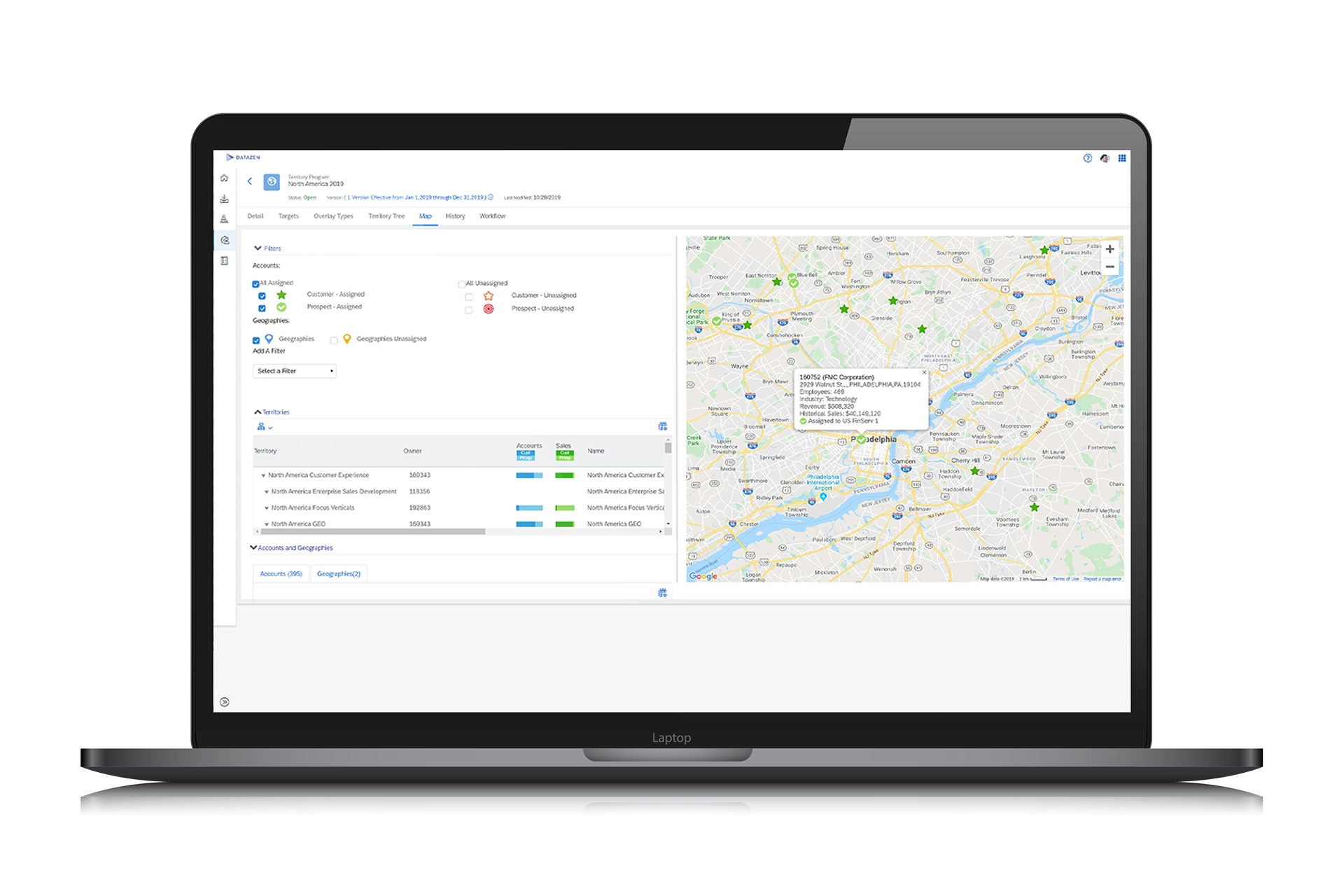 Maximize
Territory Revenue
Streamline sales planning activities and empower users to deliver strategic territories and targeted quotas at scale with territory and quota management.
Territory and Quota
What does it Look Like?
Achieve key business goals and market potential with AI-based territory optimization to leverage strategic KPIs. Increase sales plan accuracy and quota attainment using dual top-down/bottom-up planning with expected and best-case scenarios. Reduce sales turnover and keep sellers happy and focused by promoting healthy competition through intelligent assignments with financial and non-financial KPIs.
Multi-tenant cloud deployment with versatile integration options to streamline territory and quota management.
Validate sales quota targets using predictive analytics and empower sales managers to apply uplift.
AI Territory Optimization
Intuitive modelling, comparison, and creation of AI-optimized territories.
Visualization and Mapping
Refine territory configuration with geospatial visualization of account and prospect data.
Top-down, bottom-up quota planning with historic and expected performance.
Identify geographic pitfalls and support growth with strategic assignments including role-based territory shares, overlays, and splits.
Territory management at scale with branch-leaf management and embedded workflows.
Empower business users to improve outcomes without relying on IT, third-party integrations, or data scientists.
Choose
Your Journey
Legacy to modernization is a step-by-step approach instead of a big-bang end-to-end migration. Looking for quick wins that create real value separates you from ongoing legacy conversion. A truly integrated platform allows for rapid innovation in the places with the most impact giving you the freedom to map the best approach to transformation.
Our Transformation Approach
Step-by-step Migration

Quick Win Projects

Integrated Systems

Rapid Incubation

Innovate Now Not Later
How can we help?
Contact us today
Map your best route to digitized operations, set up your sales hierarchy, design initial commission plans and extend integrations and processes to get your business running the way you want it to run. We'll help you understand the options and prioritize the steps that will give you the greatest returns in the least amount of time.
Simplify.
Other Key Insurance Solutions
Transforming your tried-and-true operations can be daunting. With our years of experience in insurance operations, we understand your business. That's why we're here to help you select the solution that best suits your needs, budget, schedule, and preferences.
SAP for Insurancefor Mid to Large Insurers
Implement the best business processes, optimize reinsurance processes, and gain sophisticated functionality for regulatory reporting.
msg.Life Factoryfor Life Insurance Carriers
Provide a streamlined and personalized customer experience while meeting the unique needs of the Life insurance carriers.