Improve
Sustainability Performance
SAP Sustainability Control Tower creates a single point of truth for environmental, social, and economic activities and initiatives. Unlock the power of data to record, report, and act on all your sustainability goals.
Holistic
Sustainability Management
Manage different reporting requirements, compliance, and regulatory disclosures based on a holistic view across all company levels. Leverage predefined integration to pull data from SAP and other systems, easing data collection and allowing you to centralize all relevant data in one place.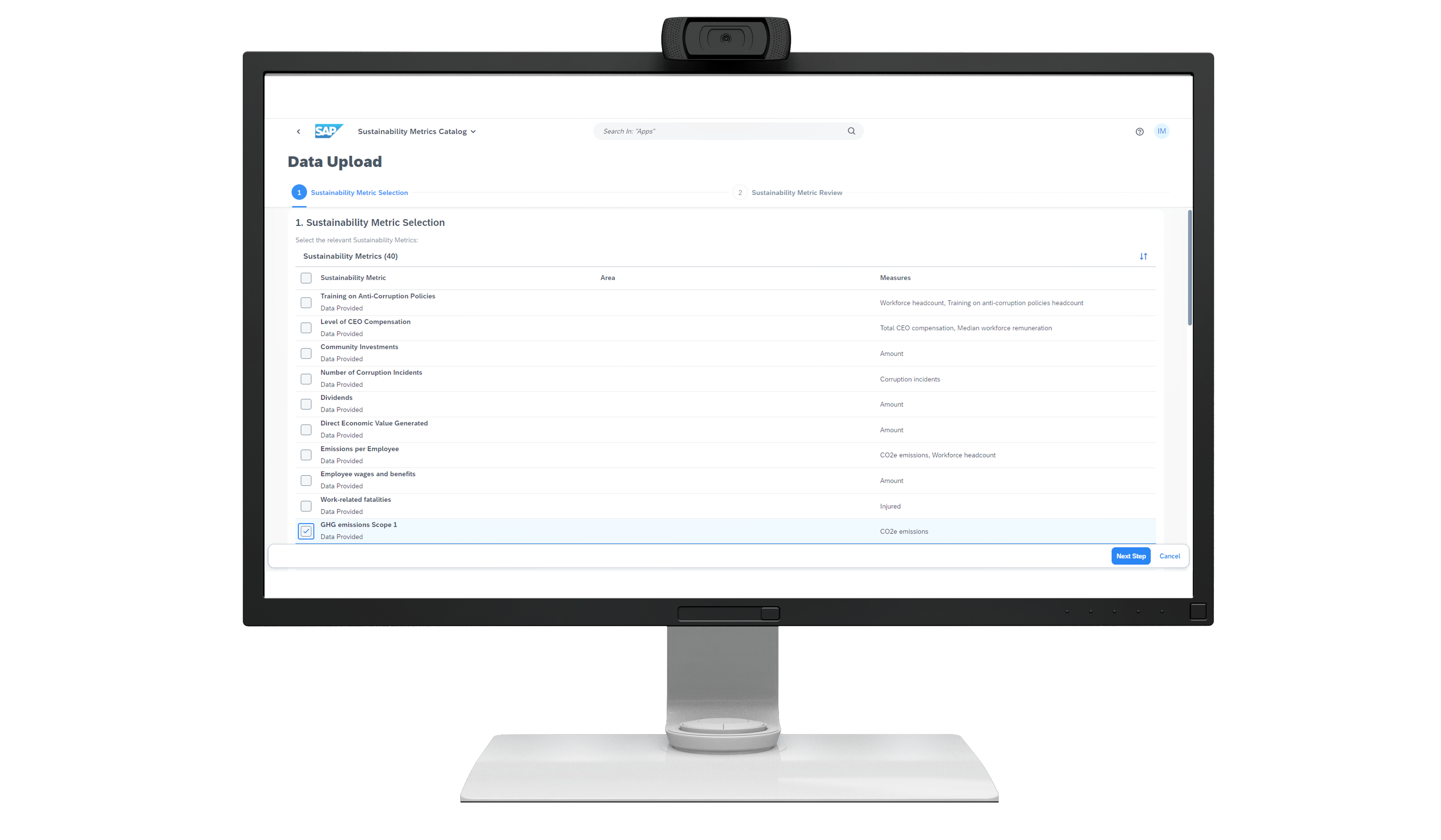 Record.
Consolidate sustainability-related data at one single point within the company
Easy data import from different sources and solutions
Gain more efficiency with automated data uploads and updates
Manage a high quantity of data on different levels across the company
Improve data quality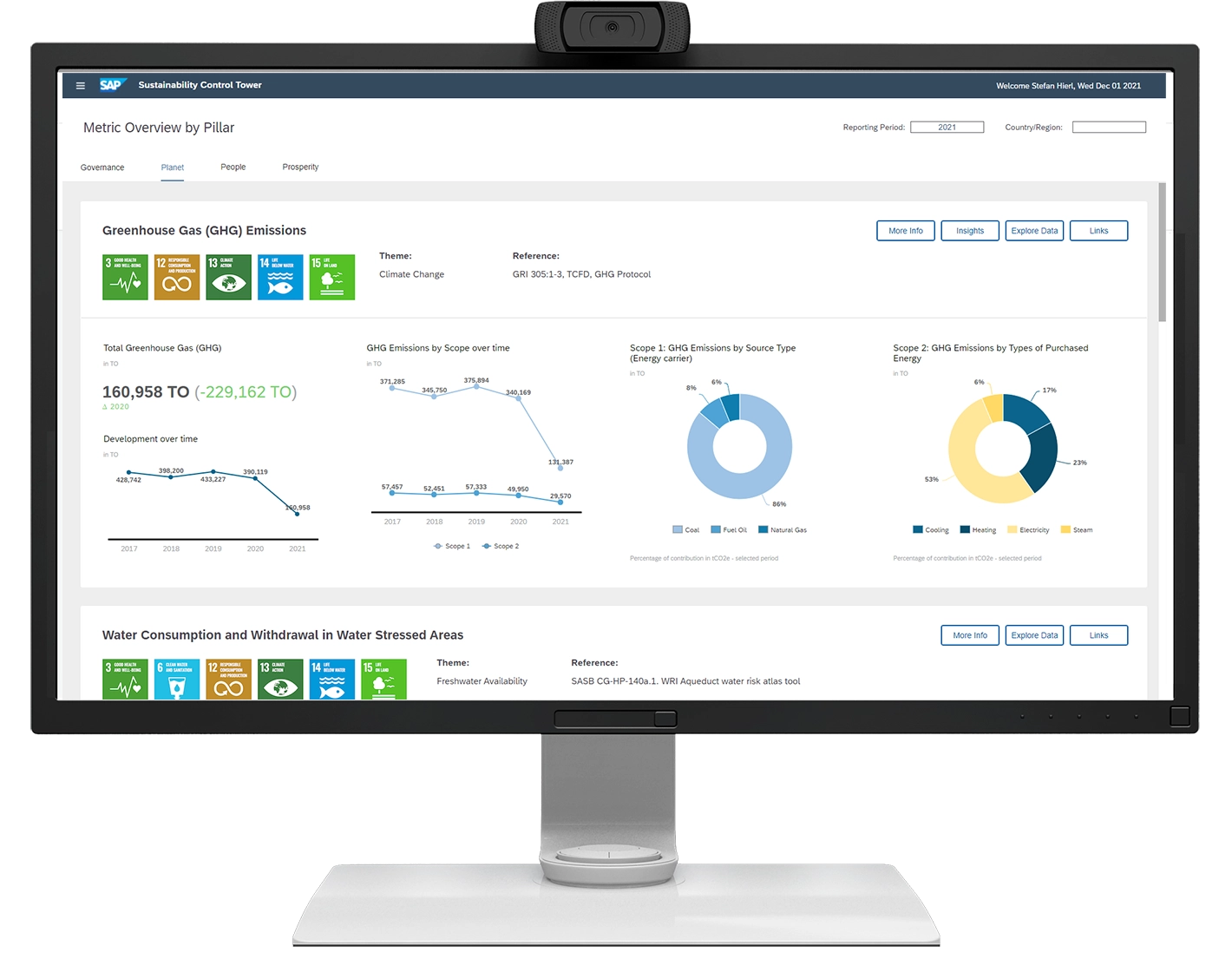 Report.
Create reports based on real-time data
Elevate efficiency by using available sustainability-related sample content
Respond fast to reports based on different demands from different stakeholders
Prepare audit-ready reports
Meet regulatory requirements and alignment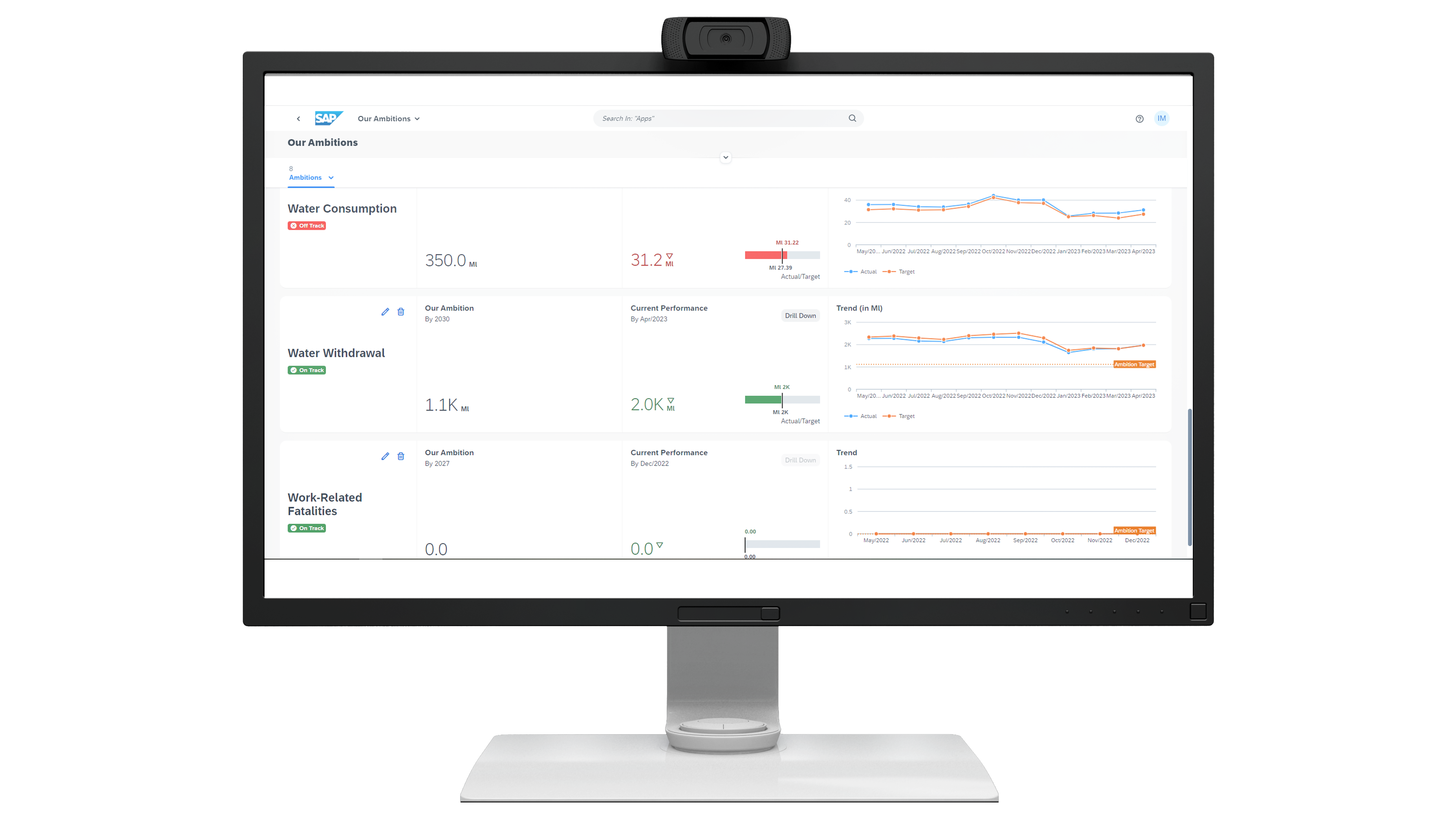 Act.
Monitor performance and determine actions to improve
Gain insights to determine sustainability-related goals
Enable accurate data-driven decisions in planning with what-if scenarios
Identify risks and opportunities to create short-term, mid-term, and long-term plans
Set customized sector and company-specific targets
Bring the Data
Build the Reports
Create auditable reports that ensure alignment with standard regulatory requirements and lay the framework to meet your sustainability goals. SAP Sustainability Control Tower is ready-made with built-in global reporting frameworks and regulations. Import data from any source and harmonize disjointed data from multiple sources.
Optimize your sustainability strategy with EU Taxonomy compliance.
Gain investment portfolio insights and make informed decisions aligned with sustainability goals.
Drive your energy transition toward net-zero with effective energy management.
Use internationally relevant reporting frameworks (GRI, TCFD, CDP, SASB).
Enhance production quality and sustainability management with comprehensive insights.
Ensure alignment with current EU regulatory requirements (CSRD, EU Taxonomy).
Generate higher profits and improve sustainability across your value chain with effective management.
Create auditable reports aligned with recommendations from the European Commission.
Simplify & Accelerate
Sustainability Reporting
Aggregate data, calculate KPIs, and maintain all sustainability-relevant information in one place to manage performance across the value chain. Depending on your focus, we can tailor our services to your precise needs with our rapid delivery content packages.


Sustainability Reporting Core (SRC)
Built on the Global Reporting Initiative (GRI) framework and includes over 200 quantitative KPIs within the environmental, social, and governance domains to produce comprehensive sustainability reporting.


Sustainability Reporting Scope 3 (SR3)
Built on the Scope 3 Greenhouse Gas Protocol (GHG Protocol) includes 12 out of 15 of the relevant categories to accelerate sustainability reporting with predefined templates and reports.
Transform
Sustainability Reporting
We understand your journey towards sustainability. We've got you covered, from meeting reporting requirements to sharing data across value chains. Watch the video to learn more about Sustainability Reporting packages.
Sustainability
Tailored to Your Needs
The sustainability topic can be overwhelming, a step-by-step approach can get you on the right track. The key to success is pinpointing your precise needs and letting our advisors develop the best strategy. For more information on our Advisory Services, click the link below.
Strategic Consulting
Expert advice to align & achieve your sustainability goals across strategic, tactical, & operational levels.
Reporting
Create reports using predefined templates and enable data traceability for audit purposes.
Data Collection
Implement efficient data collection systems and processes to ensure data accuracy.
Knowledge Transfer
Rely on our experienced sustainability consultants as guides to bridge any knowledge gaps.
KPI Calculations
Identify and calculate performance indicators critical to your sustainability objectives.
Data Integration
Implement advanced systems for real-time data integration to enhance accuracy and save time.
Explore
Define Your Sustainability Objectives
Ready to unravel the sustainability topic? Our multi-disciplinary team of experts can help you navigate regulations, define data requirements, and implement efficient reporting to manage your sustainability objectives.
Our Approach
Strong Emphasis on Collaboration
Focus on Tangible Value
Prioritize Clear Communication & Timely Delivery
Flexible & Adaptable to Your Needs
Continual Investment in Knowledge & Training
How can we help?
Contact us today
Map your best route to digitized sustainability management operations. We'll help you understand the options and prioritize the steps that will give you the greatest returns in the least amount of time.