SAP for Financial Products Subledger
Enablement
Knowledge & Best Practices as a Service
When it comes to any complex enterprise software solution, gaining a thorough working knowledge improves business outcomes and establishes a good foundation to provide the best possible return on your investment.
Our Enablement Programs deliver a detailed overview of SAP S/4HANA for financial products subledger, including insurance and accounting basics, IFRS17, reporting, system architecture, and technical aspects. Enablement programs are delivered by experienced, real-world consultants who have worked inside insurance companies and know how to get the most out of the system. Content is provided in a combination of videos, hands-on exercises, lectures, and presentations that let attendees get up to speed quickly and deep-dive into specific technical topics.
Our Purpose & Approach
Enablement services are based on structures, methodologies, and best practices derived from our experience developing and implementing SAP S/4HANA for financial products subledger for some of the world's largest insurers. As a result, we know how to help organizations address accounting and reporting challenges. And we know how to help teams get up to speed in the most effective manner. As with our implementation services, our goal is to deliver the services you need to master the solution and work efficiently.
Key Benefits
Get Up-to-speed Fast
Learn Best Practices
Real Use Cases for Deeper Understanding
Content Based on Experience from 20+ Global Project Implementations
Training Offerings
We offer three clear learning paths depending on your needs.
Click on the items below to jump to more information.
Understand E2E Process & Design Fundamentals
Gain a high level understanding of FPSL product scope, design, and end-to-end processes. Perfect for customers, implementation partners, and key project decision makers.
Get Ready for Project Implementation
Protect your investment by training your project team and learning best practices from our experienced consultant trainers. Hands-on, full solution training for functional and technical teams.
FPSL 2107 Delta Enablement
Get Insights for New Product Release
Determine system release changes and functionalities that impact overall scope and design complexity. Learn how to apply upgrade features in the most effective and efficient way.
3-Day Enablement | Understand E2E Process & Design Fundamentals
The 3-Day Training Program is the perfect intro if your company is considering SAP S/4HANA Financial Products Subledger. Give the key decision-makers and project team direct access to a live system to look around and kick the tires. We have a structured program that covers all the basics including end-to-end processes and system design fundamentals.
The program accommodates all experience levels and consists of live remote classes, hands-on exercises, and the opportunity to ask experienced consultants questions about the system and best practices.
Activities
Provision of System Access
Learn from Experienced Trainers
Lectures & Hands-on Exercises
Q&A and Best Practice
Deliverables
3-day Live Remote Program Sessions
System Access During Training
Certification for Participants
Full FPSL Enablement | Get Ready for Project Implementation
The full Enablement Program is divided into different modules, covering everything from general topic knowledge (basic insurance, actuary, and accounting knowledge) to specific knowledge around IFRS 17 and all topics relating to the SAP S/4HANA for financial products subledger.
The program accommodates all experience levels and consists of video lectures and online classes. Online lectures focus on the required background knowledge and build the proper foundation. Online classes provide lectures and hands-on exercises, as well as the opportunity to ask questions.
Insurance Basics. Essential insurance, accounting, and actuarial knowledge required to understand the big picture.
System Architecture. FPSL and S4i system architecture PLUS closing cycles, accounting, and financial statement reporting within the system.
Advanced Topics. SAP Analytics Cloud (SAC), Estimated Cashflow Preparation (ECP), Simulation, Forecasting & Planning, General Ledger Connector, and Data Load Layer (DLL).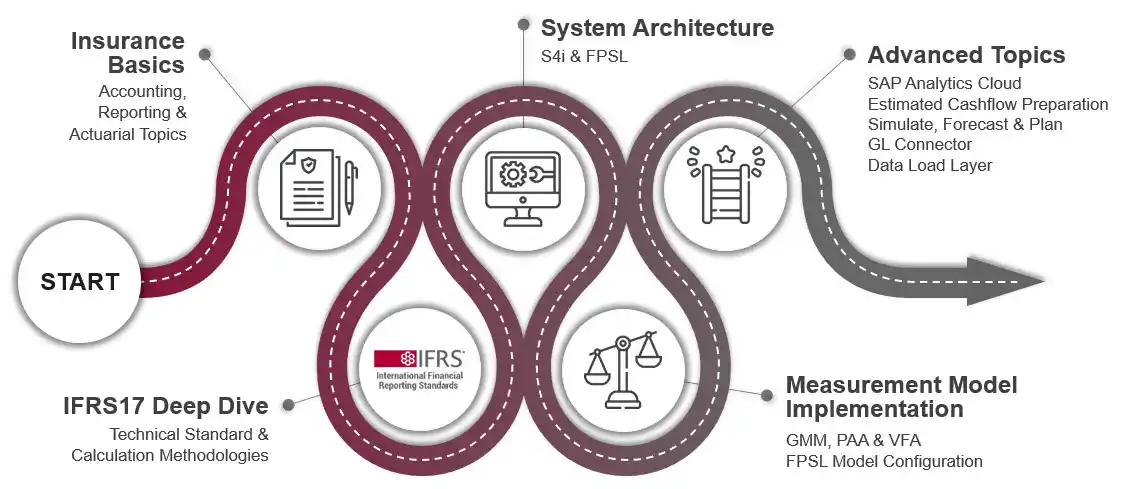 IFRS17 Deep Dive. IFRS Foundation basics, IFRS 17 standard, various measurement models, and implications for insurers.
Measurement Model. System configuration and detailed use case application of the three IFRS17 measurement models.
FPSL 2107 Delta Enablement | Get Insights for New Product Release
SAP S/4HANA for Financial Products Subledger is an evolving solution and periodic system releases bring new functionality. With new functionality comes testing and analysis to fully understand new release behavior. Our team can share step-by-step configuration and tips & tricks based on our experience implementing the latest solution release from SAP.
Save time and money, learning from us!
Challenges
Evolving System Landscape
Application of New System Features
Project Analysis and Testing
Managing Design Decisions
Benefits
Functional & Technical Use Cases
Step-by-step Guide for Configuration
Minimize Testing & Analysis Effort
Ready-to-use Project Workshop Materials
The Solution: SAP S/4HANA for financial products subledger
All our Enablement Programs are based on SAP S/4HANA for financial products subledger ― the leading software solution to manage IFRS17 ― and part of a fully integrated solution to help companies implement a multi-valuation subledger for regulatory reporting based on a standardized, central database. Click for more SAP FPSL information.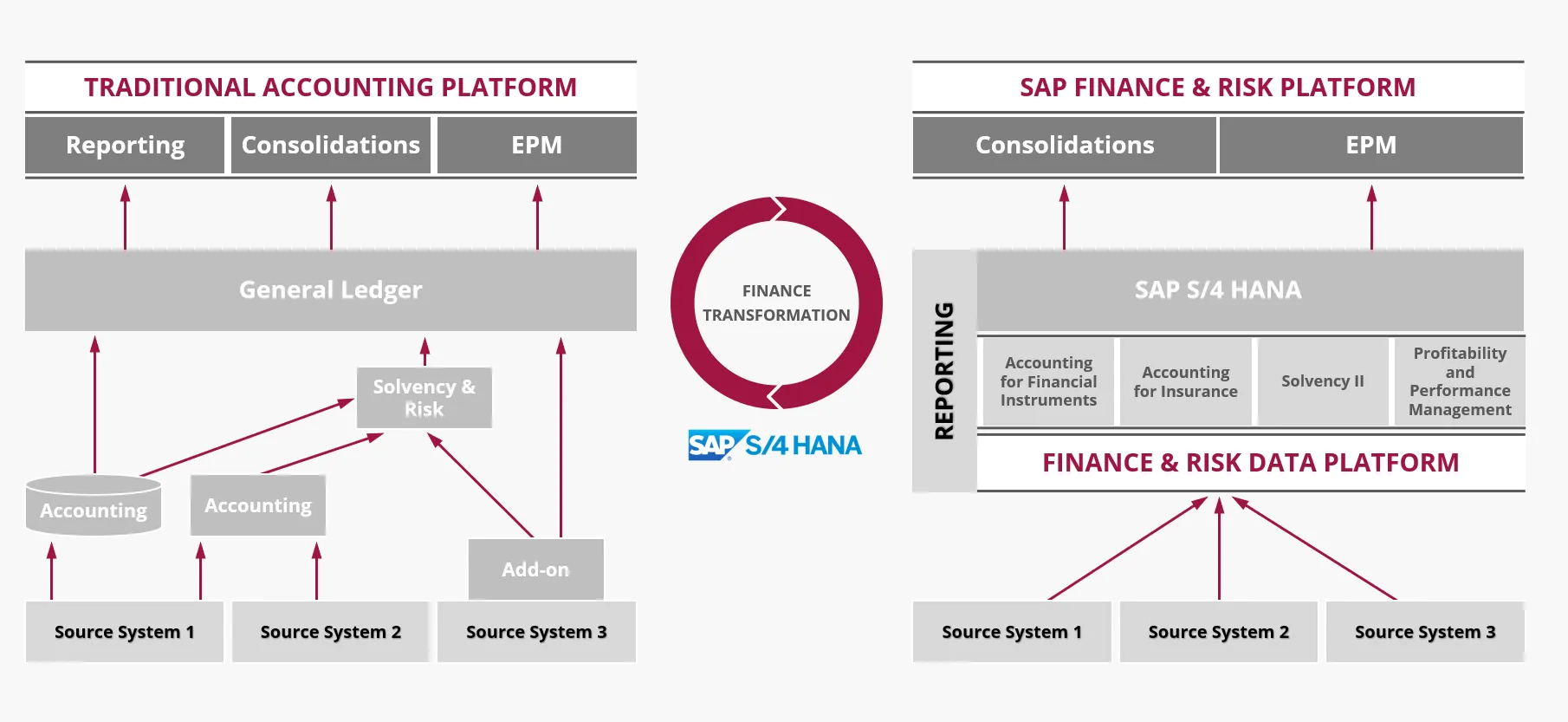 We understand that each training journey is unique. We'll work with you to help you understand all your options and select the modules that best suit your needs. We can even work with your team one-on-one to develop the best training plan that meets you where you are in your implementation.
Contact us today to learn more about our SAP S/4HANA for financial products subledger Enablement Programs.