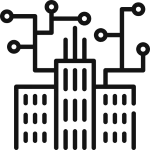 Finance Transformation
Is it time to modernize your operational systems?
Let's map out a new future.
Improve the data, the accuracy, and the timeliness of your financial operations, and you improve your business outcomes. Easier said than done. Legacy systems are always an issue. Old habits die hard. And the pace of change makes it difficult to know the best way to tackle your challenges.
What to do? Start with a bigger picture.
Financial transformation is more than devising new ways to collect and analyze data. It's about recognizing current constraints and looking beyond them to better outcomes. It's about open minds, new approaches, and strategic applications of technology. And like digitalization, financial transformation is about gradual, methodical approaches.
SAP, EY & msg global Webinar
Real Transformative Outcomes

Big Data. The greater the data volume, the more processing power required for meaningful and actionable analytics. Go deep, with a system that can handle your lowest level of granular data.

Better System Performance. Slow processing hinders performance. SAP S/4HANA in-memory database makes real-time information accessible to enable better decision-making.

Central Control. One data repository. One source of truth. Real-time collaboration. Means proper care & feeding of the ledger. Now that's transformative.

System Integration. Integrating and interfacing with other systems and data sources increases efficiency and productivity. Make it easy with solutions and methodologies that support a holistic approach.
Manage Growth. Real-time product modeling, streamlined processes, and centralized operations let you make, monitor, measure, and manage business growth.

IT Independence. Your business users own, create, and manage their own processes with user-friendly interfaces that yield better information and workflows.

Flexible Analytics. Make "death by spreadsheet" a thing of the past. Spreadsheets, manual processes, and convoluted workarounds can be replaced with integrated analytics and real-time what-if scenarios.

Streamlined Regulatory Reporting. An integrated platform with a central data repository streamlines reporting while making it easier to ensure regulatory compliance and transparency.
Key Solutions for Finance Transformation
Identifying the best solutions and advisors to help navigate the road ahead is the key to success. We believe SAP's smart, flexible general ledger system is the foundation for any long-term transformation effort. As an SAP development partner, we work on the front lines to develop sustainable solutions. Drawing on years of consulting experience and industry best practices, we strive to mitigate cost and formulate plans for rapid implementations.
Here are the solutions that we consider to be the best place to start when evaluating any finance transformation.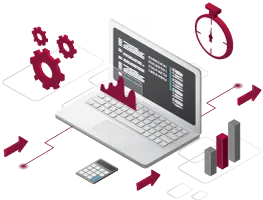 SAP Profitability & Performance Management
SAP HANA native solution that maintains and executes complex calculations, rules, and simulations for profitability and cost analysis with minimal IT involvement.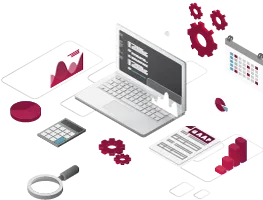 SAP S/4HANA for Financial Products Subledger
Create ONE standardized, central database for shared, integrated processes between the operational, actuarial, and financial worlds for multi-GAAP accounting and regulatory reporting.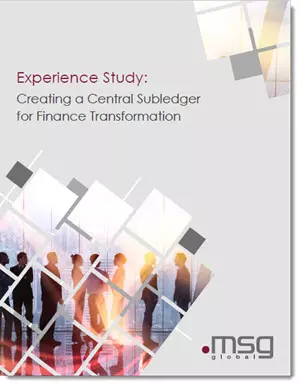 Creating a Central Subledger for Finance Transformation
The challenges financial institutions face today are beyond the scope of any single software solution. The role of the finance organization itself is changing. From a reporting factory to the core business unit that generates, preserves, and delivers enterprise-wide strategic value.
Learn how msg global views the financial subledger as a core component of financial transformation.
Your organization's business and finance operations didn't become dated overnight. But that doesn't preclude the prospect of incremental progress. The best place to start is almost always at the beginning.
There's no one, perfect way for every organization to achieve financial transformation. But there is a perfect way for each organization. And msg global solutions will help you find yours.
We can help you:
Define your objectives
Identify the impediments to achieving them
Determine the best way to overcome both technical and/or operational issues
Develop a plan to get you where you want to be
If you're considering SAP® solutions or just want more information about our services, simply fill out the contact form and we'll be in touch.
We'll work with you to help you understand all your options and select the solutions that best suit your needs to get your business running the way you want it to run.
Contact us today to learn more about all the ways we can help you do more business, more efficiently.